Last Updated on April 17, 2023 by admin
PRODUCT DESCRIPTION
Exclusive as it is, this incredibly affordable wireless HDMI transmitter & receiver system has a rating of 300ft in line of sight. For gadgets in its specialty, it beats all odds in performance. Forget about compression with the HDMI 1080p 60Hz. Hollyland employs the most recent technologies in this transmitter system.  Image decoding technologies and noise reduction feature ensure delivery of broadcast-class High Definition audio and video quality while maintaining very high-quality standards. Accuracy will be highly dependent on the amount of congestion on the RF in the scene of use. If the signal gets low, the wireless HDMI receiver has a status light that blinks though it still works. However, if work progress hits a block, you must have drifted further from the transmitter.
ABOUT THE BRAND
Shenzhen Hollyland Technology is a reputable, best-selling, and top-rated company. It has a keen eye for detail, especially on video and audio transmission, wireless data solutions, Intercom, and HDMI products. As it gears towards more significant investments in innovations and new project developments annually, it has made the manufacturer a competitive name globally. As the brain behind the Hollyland Mars 300FT, you can agree that customers are yet to get more surprises in their life with more excellent products from this brand.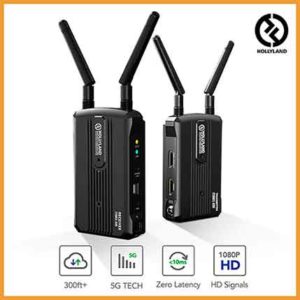 Pros
Dependable clarity and image quality
Minimal noise
Longer working distance of up to 300FT
Works for low budget productions
Lightweight video transmission for remote monitoring
Advanced transmission technology
Great options for directors and photographers
Cons
You will need two or more transmission systems for multi-angle shots
Not a great wireless HDMI transmitter and receiver kit for high budget productions
Experiences latency at about 100 milliseconds
Shorter warranty period- 1 year
FEATURES:
PREMIUM FILM SUPERIORITY
Video and film quality is top-notch. Thanks to the utilization of some of the latest technologies in image decoding. These technologies allow the video transmission kit to deliver broad-cast class and high-quality High Definition videos without compromising standards at HDMI 10180p 60Hz.
TOP-NOTCH AUDIO EFFECT
Hollyland Mars 300 breaks through the tradition and applies the latest in noise reduction technology, boosting audio clarity. Transmissions are in synchrony since the gadget adopts a 5GHZ frequency band. In terms of reliability, it takes a thumbs up.
SHORTEST LATENCY PERIOD
Although the device experience latency at around 100 milliseconds if you are making a professional production, you will love how short the latency time gets in low budget productions. Ten milliseconds only of latency time ensure that connectivity is reliable and very useful and tactfully reproducing the video and audio on the connected devices.
WIRELESS TRANSMITTER
We are moving from the error on tangled wireless HDMI cables and portability issues. The wireless transmitter comes in a Die-Cast metallic housing for durability in case the transmitter drops. More upsides are corrosion and rust-resistance if you expose it to moisture. It has a 6W power consumption, which is very low. The loop output and input are HDMI type A.
RESOURCE RELIEF
Electrical gadgets come with a hike in utility bills. Worry not as Hollyland backs this device with a 1-year warranty. Though limited, it caters for repairs and replacement in the said period. On energy consumption, the intake is almost negligible, and you are unlikely to notice a substantial increase in power bills.
RECEIVER
Boasting a power input of about 6-16V DC, there is nothing better than a device with this range. The material construction of the housing is similar to that of the transmitter hence longevity. With the same transmission range, the wireless HDMI receiver has an output of 1 HDMI type A.
PERFORMANCE
Indeed, a thumbs up for this Hollyland Mars 300 transmitter. It features among the best wireless HDMI transmitter system guides and reviews. There is no doubt that it is highly dependable in terms of service rendering and durability. Its compact design and less weight of 6.5oz allows for easy portability without any problem. The package consists of a transmitter, receiver, hot shoex, 5 antennas, a mounting kit, manual, and DC adapter.
RANGE:
TRANSMISSION RANGE
The wireless HDMI video transmission kit goes to a maximum of 300 feet in distance coverage while maintaining optimal wireless HDMI connection effect. As you work with them with their 2 antennas, the devices release signals at a maximum distance of about 500 feet.
COMPATIBILITY
The receiver and transmitter have two HDMI ports. The imaging system can output and input video and audio signals for any DSLR and the mirrorless cameras. They work non-stop for 5 hours with a full charge.
WHY YOU MAY CHOOSE HOLLYLAND WIRELESS HDMI:
GREATER COMPATIBILITY OPTIONS
The fact that you can connect the system to virtually any kind of mirrorless cameras and DSLRs is already ten times advantages on the side of applicability.
WIDE TRANSMISSION COVERAGE
So it doesn't just go to 300 feet in distance. With the help of the antennas, there is a surety that the range increases by 200 feet without affecting video and audio quality.
AFTER SERVICE ATTENDANCE
Nothing beats a lifetime after service pledge by a manufacturer over a product purchase. This is what Hollyland does to the Mars 300. In case of any issue after the warranty period lapses, you are sure to have the manufacturer render service for more customer satisfaction.
OUR EXPERT VIEW ABOUT HOLLYLAND WIRELESS HDMI ADAPTER:
The package comes with a 1-year limited warranty. Though the limitation takes the score lower, a lifetime service counter it. To that effect, we rank it at 90%.
Distance coverage of 300 feet with an extra 200 feet with antenna use is incredibly a bonus to its operation; therefore, scooping 80% from us.
Overall, the Hollyland Mars 300 scores 85%.
CUSTOMER REVIEW
A whopping 4.9 out of 5 stars is beyond words. It is expected of a good brand like Hollyland though. Reviewers are advocating for the product's use for its high efficiency. In one's words, it is a MUST-HAVE gadget for her gear bag each time she steps out. Isn't this enough to say that it gets a thumbs up?