Last Updated on April 17, 2023 by admin
SHORT PRODUCT DESCRIPTION
Microsoft Wireless Display Adapter P3Q-00001performs just like in its utilitarian name. It offers a concrete way of slinging your screen inclusive of audio and visuals from the computer to a TV or an Android device. The adapter attaches to your projector or TV via a HDMI, and it receives power via a USB. It needs no independent applications but will require a source device to be fully functional.
ABOUT THE BRAND
Microsoft has dominated the market for decades and is famous for developing, manufacturing, licensing, supporting, and selling consumer electronics, computer software, personal computers, and other related services. As a multinational company dealing in technology, there is more with regards to the services and products it provides that we should anticipate. Hitting 44 years since the company's founding, we can say that Microsoft is working extremely hard to ensure that its service delivery to the world is exemplary. There is no doubt about this, especially with the numerous awards that the company has won in every department. The Microsoft Wireless Display Adapter P3Q-00001 is among its products that are owned by thousands of people worldwide.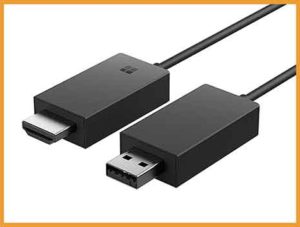 PROS
Quick and simple setup
Doesn't require any independent applications
No limitations to sites to visit or content to watch
Uses Mira cast technology which works with the Windows computers
No traditional WIFI connection
CONS
Quite costly especially when put alongside similar devices like the Chromecast from Google
Needs power supply if your monitor doesn't have any powered USB.
Doesn't work at all with Mac, iOS and some Android devices
FEATURE
DEVICE COMPATIBILITY
Whether it is a Surface line up, laptop, tablet, or Windows 10 phone, there are no hindrances to functionality. Not even internet access is a necessity during use. Other operating systems that will work with this wireless HDMI connection are Windows 8.1 and Windows 10.
ASPECTS OF DISPLAY
While one wireless HDMI extender can choose or has specifications of what to project, this one is not biased. You can stream to any app without limitations. You can access content from all providers you wish. And if you are displaying content to a monitor or HDTV, you will enjoy both audio and visuals in superb clarity. Thanks to the Mira cast technology that allows for free streaming, we can say that it is adequately reliable both for personal and corporate use.
SETUP
There are no complications here. Plug the USB cable and the HDMI from display adapter into the monitor or HDTV. Proceed to connect then extend the screen or mirror it. You can enjoy convenience without suffering from a migraine of which app to install and why the WIFI connection isn't responsive.
CONNECTIVITY
Wireless is the new way to go. And while this wireless HDMI cable does like in its name and description, you need not worry about the messiness of cords and cables. The worst fear is tangling. The dongle is compact enough to allow for portability to any location of interest. We can say it fits in your pants or jacket pockets with ease.
PERFORMANCE
The Microsoft Wireless Display Adapter P3Q-00001 is a gem. It works wonders for individuals without WIFI connection, unlike others such as Amazon firestick and Chromecast. As the best wireless HDMI for the money in this situation, it is effortless to install. Plug-And-Play is the simplest way to describe its installation and setup. The wireless HDMI splitter communicates wirelessly with the adapter and device. It might not be an excellent choice for gaming, but on the other points of use, you can highly depend on this wireless HDMI extender.
RANGE
For a wireless HDMI transmitter and receiver like this, projection and a reliable connection are superb until a maximum of 23 feet, which is the limit. It might seem shorter to others. But unlike a wireless HDMI transmitter & receiver system that has antennas and can go over 200FT, for its overly compact design, it is perfect.
WHY YOU MAY CHOOSE MICROSOFT WIRELESS HDMI?
NO RESTRICTIONS
The fact that it projects both audio and visual content is already a big bonus to it. Most importantly, being able to stream any content from any provider makes it a go for choice for many people. Nowadays, corporates, students, and other professionals are using the wireless HDMI transmitter for meetings or presentations.
USABLE WITHOUT WIFI CONNECTION
Another plus that makes it top of the list is its applicability without the need for any WiFi connection. First, it dramatically cuts down on your data use and allows for use anywhere where there is no connection.
OUR EXPERT VIEW ABOUT MICROSOFT WIRELESS HDMI
The usability of the wireless HDMI adapter without the need for complicated installation is a big deal, and we give it 90%.
How well it serves its purpose anywhere regardless of the unavailability of WIFI connection is another factor that makes it earn 95%.
Its limitation to the devices of use and restrictions to a few operating systems is a little downside, so we give the device 70% for this.
The 23 feet connectivity range is quite reasonable considering its design and application. We give 80% for this reason.
Overall, considering all factors including performance and durability, the Microsoft Wireless Display Adapter P3Q-00001 is genuinely remarkable. It earns 83% which it deserves, and in the ranking, it features among the best wireless HDMI adapters for the money.
CUSTOMER REVIEW
Nearing 1000 rated reviews, the Microsoft Wireless Display Adapter P3Q-00001 on average is at 3.8 stars out of 5. This is way above average, and with the critics being only a handful, we can confirm that this is an entirely dependable wireless HDMI extender for the majority. A happy user says that the device is pretty easy to install and takes less than a minute. The picture and audio quality is almost HD, and for this reason, there is no gamble with the screen quality. Clarity is achievable, and the fact that you can use it without any WIFI connection makes it a reliable choice all the time. For gaming, it has a few hitches here and there.